The "More Filters" hyperlink at the bottom of the Search Criteria panel contains an additional list of fields which can be used to filter on.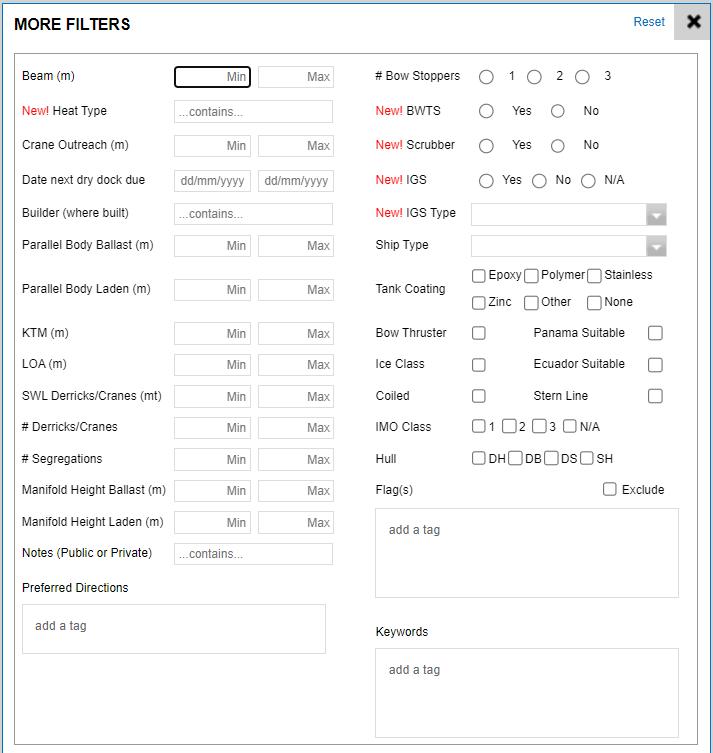 For the min/max fields you can enter just min to search for all ships greater than the value, just max to search for all ships less than the value or enter both to search for the range.
The Keywords field can be used to create a custom list of "tags". By entering the specific keyword for each vessel then you can use the More Filters Keywords to only search for ships matching the tag specified.
# Bow Stoppers will search for ships that have the selected number or greater.
The Hull checkboxes will search for ships that match any of the selected checkboxes (DH for Double Hull etc).
Tank coating check boxes will search for ships having at least one of the checked values.
The IMO Class checkboxes will search for vessels classed in the selected class. I.e. if you select IMO 2 then the results will include vessels that have at least one IMO 2 tank. If you select IMO 3 then the results will show the vessels that have at least one IMO 3. In addition, you can use the N/A check box to search for vessels that are neither IMO class 1, 2 or 3.
For the Flag(s) search, you can search for selected flags or tick the 'Exclude' checkbox to exclude the selected flags.
The notes section allows you to search both public and private notes at the same time. Results will pull from both fields.
Builder (where built) field allows the user to search by a specific yard.
For ships that have a Preferred Direction after current port, this field allows users to populate direction based on pre-determined areas.
When the More Filters window gets closed the More Filters hyperlink will refresh and show the nr of Filters selected

To remove one Filter click the X symbol next to it

To remove All Filters click the Reset