Q88 Pro - Adding/Removing Vessels from a List
When working with position lists you may want to add or remove vessels from the list.
To remove a vessel press the "Delete" key when the vessel is highlighted in the grid. You can also highlight multiple vessels at the same time and then press the "Delete" key.
The other option for removing vessels is to use the "Compact" feature; it works the opposite of the delete key. Select all the vessels you wish to keep, and press "C" to remove all the unselected vessels.
To add a vessel to the list, click the "A" shortcut key which will direct the focus in the "Add Vessel" textbox in the top-right corner of the page. Type the name or IMO Nr of the vessel you wish to add and when highlighted press the "Enter" or "Tab" key to add the vessel to the position list.
As vessels are added and removed, the position list will show the corresponding numbers next to the number of positions at the top of your list.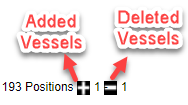 Click on the icon to see the list of vessels added or deleted. Added vessels can be removed by clicking the Clear option and deleted vessels can be restored by clicking the Restore option.