The system calculates ETA's based on the individual specifications of each ship. Routing is handled in three different ways.
| All: | This method excludes Panama and Kiel Canal options along with all major routing options which commercial traffic does not use. |
| --- | --- |
| Panama: | Same as All routing but also includes Panama. Any ship that meets the LOA and Beam restrictions of the Panama Canal will be routed through Panama. |
| Kiel: | Same as Panama routing but also allows ships to transit the Kiel Canal. Kiel routing is enabled for all ships under 20k dwt. |
In the upper action menu, by clicking on the 'Canal Transit' button, you can add time to each of the following canals/areas: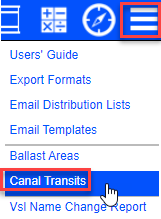 Manually add the days and save from the Disk symbol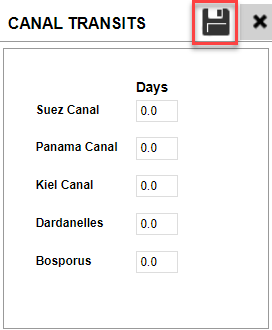 By adding days to any of those areas, you will add the corresponding days to the transit.
Direction does not matter. Any changes made are done at the user level.