Sharing Settings & Position Locking
One of the most important functions of the system is the ability to share positions with other brokerage companies that subscribe to the Q88 Position List.
Sharing Settings
The Sharing Settings for your company are accessible from the Actions menu in the upper-right corner and can be modified only by your company's Account administrator.
The Sharing Settings list displays all the brokerage companies that subscribe to the Q88 Position List.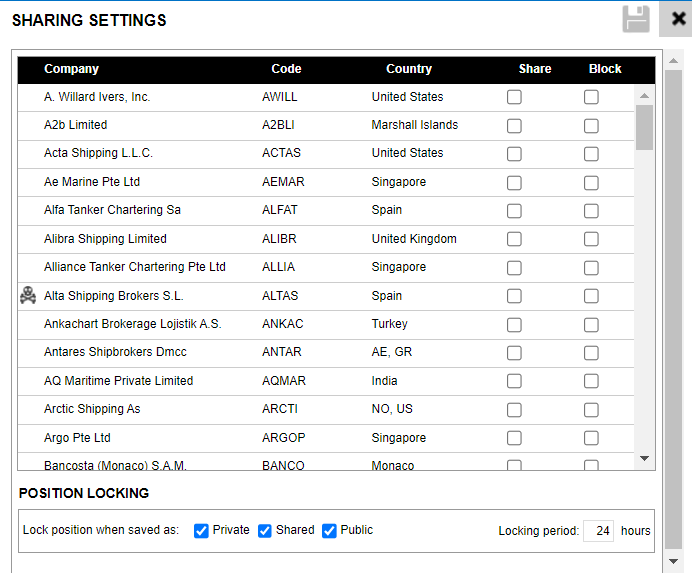 The checkboxes under the Share and Block columns allow you to enable/disable sharing and blocking.
If the Share checkbox is selected for a company, then any position that is saved as "Shared" will be sent to the company you are sharing with.

If the Block checkbox is selected for a company, then you will block any updates to your account from that company, even if the company has set up sharing with you.
This image next to a company's name indicates that they are not sharing positions with your company.

Position Locking
When vessel position updates are made, there is the option to set a period where that update will remain locked under your account, even if updates are shared from other companies. The Position Locking panel at the bottom of the Sharing Settings page allows you to select which update types will be locked. The Locking Period entered in the textbox will set the period during which the record will be locked.

During the locking period, any position update shared by another company will be ignored, but the Updated icon (padlock symbol) will reflect that an update occurred while the position was locked.

There are a few scenarios where the updated position of a vessel will be locked.
When the position is locked, then shared/public position updates from other companies will not affect the open position of the vessel. This section explains how the locking works and when.
The vessels position will remain locked for the period set by your company's administrator (24 hours by default) after the last update under the following scenarios:
Vessel position is privately updated

Vessel position is deleted (keyboard shortcut Z)

Vessel is set as TBN Vessel status
Training video
For more guidance, you may refer to the following training video. Click the link to open it in a new tab: