VIP - Time Charter Commissions
Home > Time Charters > Time Charter Commissions
---
On a Time Charter, you can view and create Time Charter Commission Payments.
TC Commission Payment
The TC Commission Payment form lists Time Charter Commission Invoices.
Do one of the following:
On the Time Charter In or Time Charter Out, click Commission and then click TC In Commission or TC Out Commission.

On the Operations menu

, under Time Charter In or Time Charter Out, click Commissions.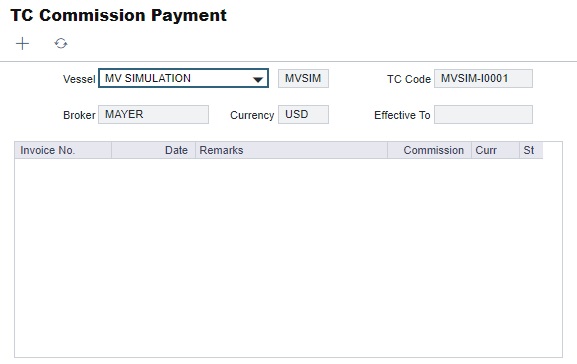 To view a Time Charter Commission Payment, select a Vessel from the selection list.

To create a new Time Charter Commission Payment, click +.

To view previous Time Charter Commission Payments, right-click a line and then click Details.
Time Charter Commission Payment
The Time Charter Commission Payment form is used to enter details from an invoice received from a broker for a Time Charter In payment. It verifies that the information is correct and consistent with the commission structure established in the Time Charter and allows you to record payment.
To make a payment, do one of the following: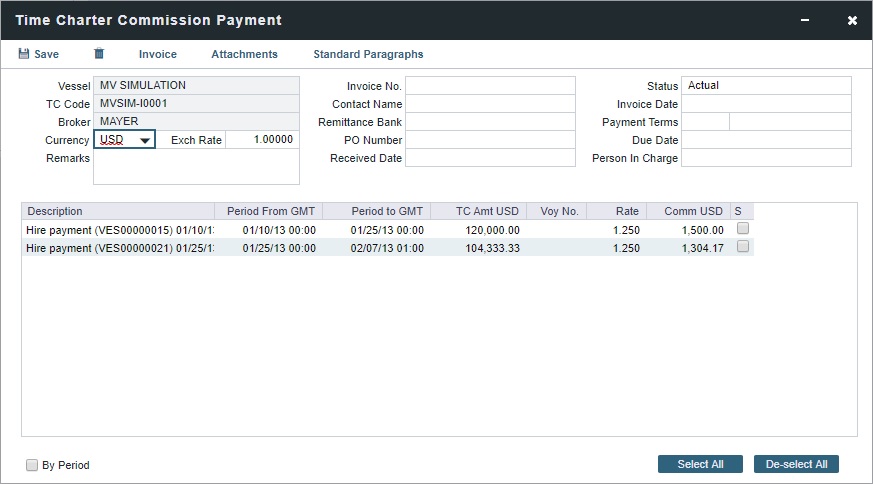 Any existing payments appear.

Select the C check box on each detail line to pay those commissions.

To select or clear all lines, use the buttons at the bottom of the list.

You can issue a By Period payment after a regular Commission Payment.

The commission amount is derived from the commission rate set in the contract.

Items unselected while issuing a By Period payment will still be available to be included in a future payment
Related Configuration Flags
Name/Flag

Description

Default TC Comm Payment Method
CFGDefaultTCCommPaymentMethod

Sets a default Payment Method for brokers.

Default Unactual
CFGDefaultUnactual

When enabled, the status of a newly created Bunker, Freight, Equipment, Hire, and Commission invoice is set to Pending by default.

Auto Generate TC Comms
CFGAutoGenerateTCComms

Note: CFGAutoNumberPayables must also be enabled.

When enabled, TC Commission invoices will automatically be created when the corresponding TC Hire invoice has been posted.

Auto Number Payables
CFGAutoNumberPayables

Automatically assigns invoice numbers to AP invoices.