Why is Demurrage or Despatch not showing on the Actual P&L Column?
More often than not, when we key in Data entry into a Voyage Manager's field, it gets reflected onto the PnL (Actual Column). However, this is not the case for Laytime Calculations.
When the question of why Demmurage/ Despatch not showing on P&L (Actual Column) arises, we will have to review the following.
Laytime Status
How to know if the calculation is included in the Actual P&L?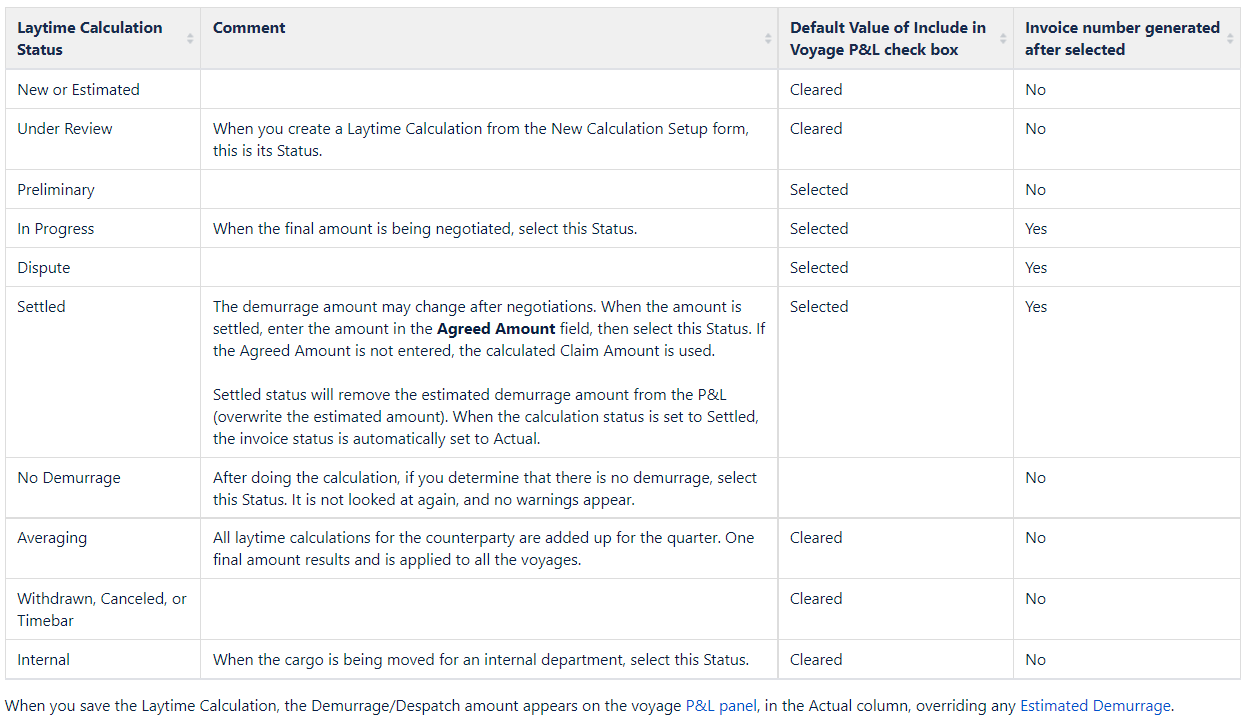 The above screenshot was taken from VIP - Laytime Calculation
The 3rd Column of the table header states "Default Value of Include In Voyage P&L check box". The corresponding Laytime Calculation Status determines if the P&L check box is ticked and therefore also determines if the calculated laytime Demurrage or Despatch would be reflected on the Actual P&L.
Users have the choice to select a Laytime Calculation Status in the drop-down list in the below screenshot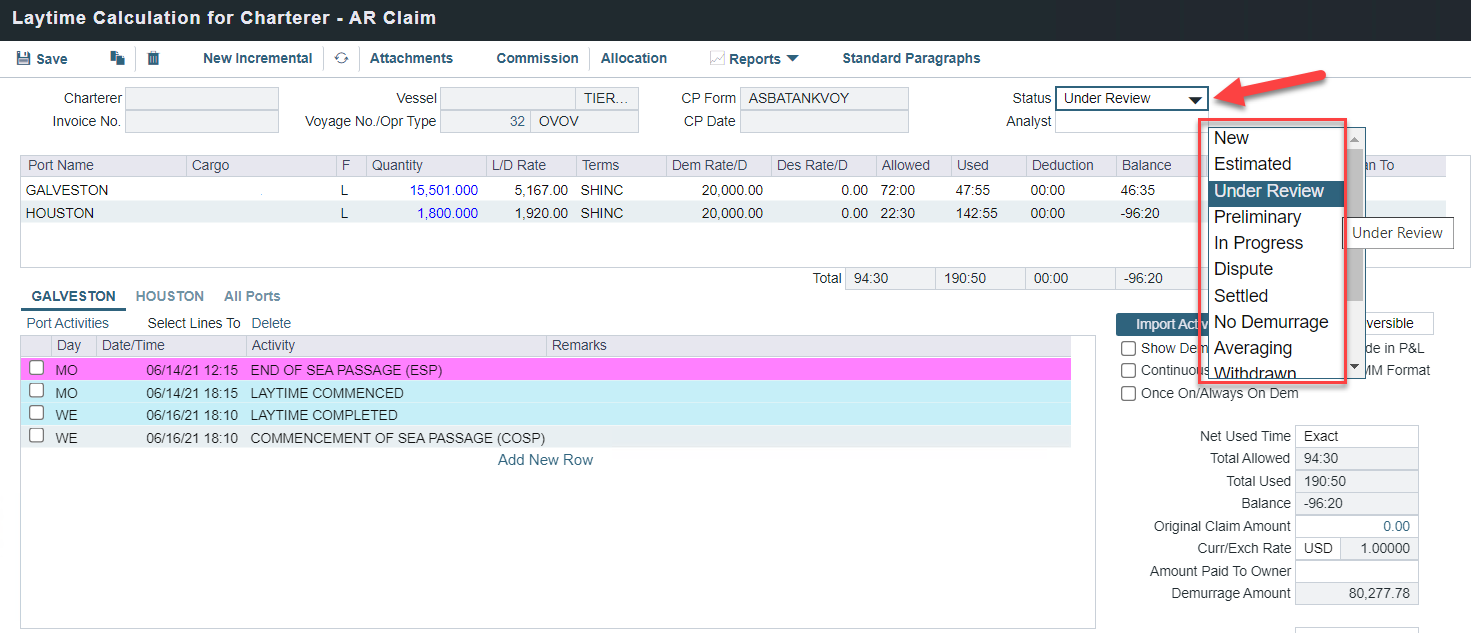 If the Laytime Calculation Status selected has the Default Value of "Cleared", the "Include in P&L" check box will not be ticked. On the other hand, if the Laytime Calculation Status selected has the Default Value of "Selected", the check box will be ticked. The check box can be found in the below screenshot.

Can the user freely tick and untick the box?
Yes and No.

To further elaborate, even though by default the check box could be ticked, it does not mean it cannot be unticked. It all depends on which Laytime Calculation Status is chosen. Do refer to the below table for reference. This feature gives the user the flexibility to select the most suitable Laytime Calculation Status and whether to include the calculation to the Actual P&L.

Laytime Calculation Status

Default Value of "Include in Voyage"

P&L check box

P&L Check box free to

tick and untick

New

Cleared

Yes

Estimated

Cleared

No

Under Review

Cleared

Yes

Preliminary

Selected

Yes

In Progress

Selected

Yes

Dispute

Selected

Yes

Settled

Selected

No

No Demurrage

Cleared

No

Averaging

Cleared

No

Withdrawn

Cleared

Yes

Cancelled

Cleared

No

Time Bar

Cleared

Yes

Internal

Cleared

No
For Example in a scenario:
MV VESON had experienced a 10 days delay due to port congestion at Load Port

Logically the laytime would run into Demurrage under such long waiting at anchorage

In this instance, the Estimated P&L would differ from Actual P&L by a lot (Because Estimation did not include unforeseeable 10 days delays, and no laytime is key in at load port)

Hence, it is logical to do up a "Preliminary" laytime calculation (Select Preliminary Laytime Calculation Status) and to generate Demurrage figure into Actual P&L

This will "Balance Out" between the Estimated P&L and Actual P&L

Of course, user can choose to untick the P&L check box if he/she wishes not to reflect the figure in Actual P&L
-END-