The 'Planned Officers' tab gives you the ability to create a planning scenario for your vessel.

This is useful when you need to generate the Officer Matrix document for a future date and the officers onboard at that time do not match the ones that are onboard today. As previously mentioned, charterers normally request a copy of the Officer Matrix basis the date of the intended voyage which may be weeks or even months from today.
Using this planning tab allows you to create this planning matrix without affecting the current matrix as it stands today. The other benefit of the 'Planned Officers' feature is so that you can test different possible combinations of officers to see how they would comply with the oil company requirements.
When you click the Planning tab the first time you will see the page display as below: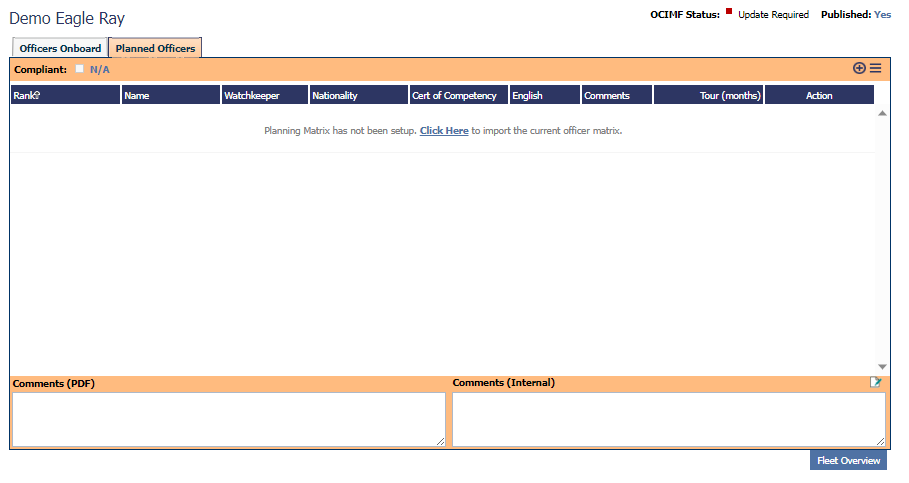 If you wish to import the Officer's that are currently onboard then you can click this link. This will copy the current Officers into the planning matrix.
Note: Any changes you make to an Officer in the planning matrix will have NO effect on the information stored for the Officer on the 'Officers Onboard' tab.
Another way to think of this is that the 'Planned Officer' tab is a temporary workspace for you to try out different options for what officers you want to have onboard in the future.
If you want to clear out the planning matrix you have this option from the Actions menu, click the 'Clear Planning Matrix' link.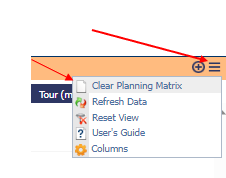 If you want to sign an officer onto the "Officers Onboard", click the Green + next to the officer