Veslink standardizes voyage communications to help you collect and analyze current positions and other critical voyage data and share information with a network of trusted partners.

This is a Key Topic, with high value for all users.
---
Note: You must have the View Dashboard General Permission enabled.
The Dashboard is the landing page for Veslink, the first page you see when you log in. It is your visual workspace, giving you the immediate information you need to manage and make decisions about your fleet.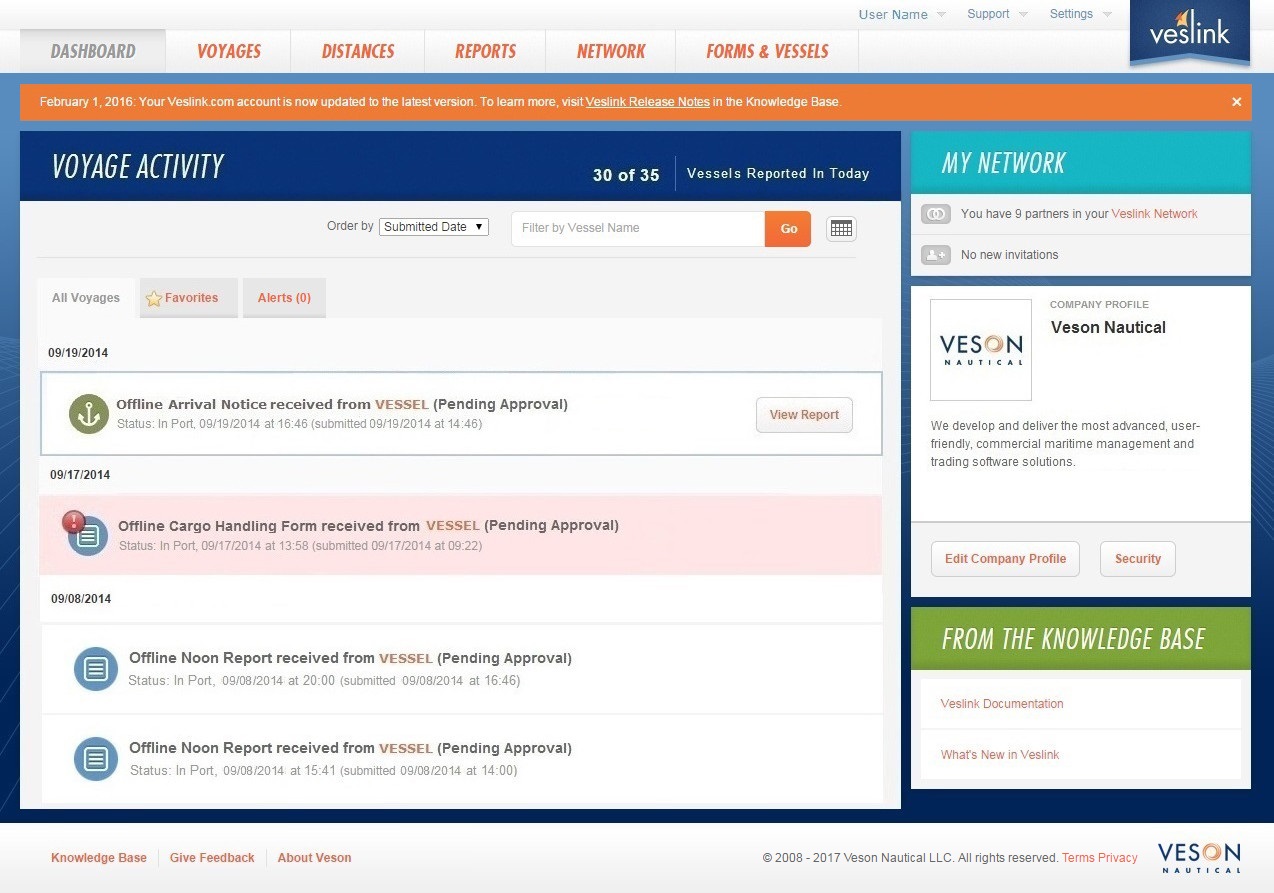 You can use the Dashboard to manage forms that require attention. From this page, you can also see Veslink updates in a message banner, view and update information about your network and your company profile, and get help from the Knowledge Base.
Voyage Activity
The Voyage Activity pane lists the forms that need approval.
Forms appear in banners, organized by Submitted Date, with the most recent form at the top. To change to Effective Date (the date for which the data is relevant), select it in the list at the top.
Forms with pink banners have an error.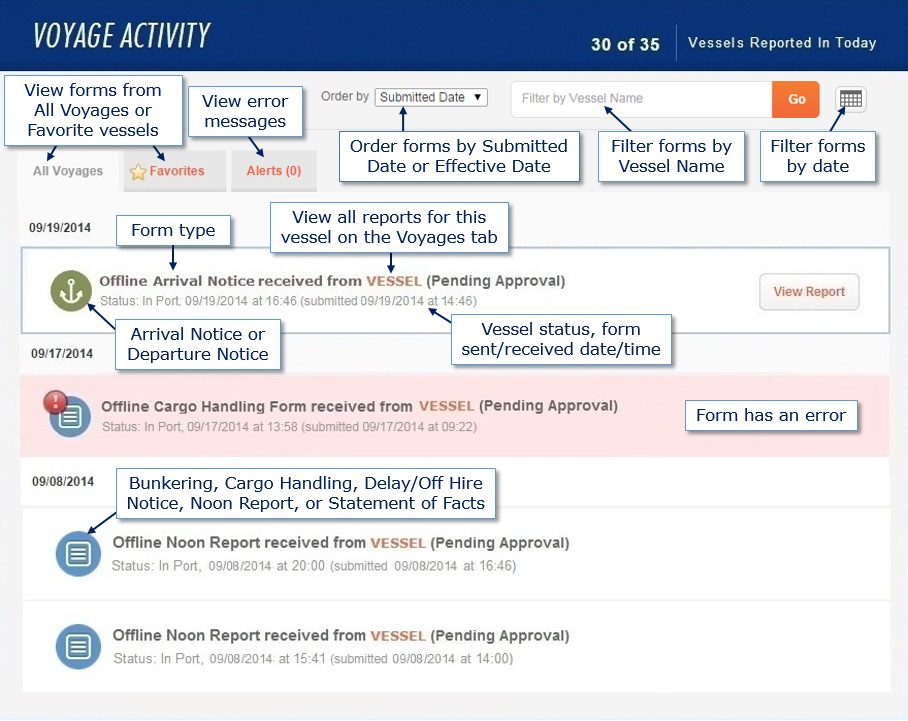 Viewing Forms
To view a form, hover over its banner and then click
. The report opens in the Voyage Reports list, where you can approve or reject it.
If the form banner is pink, the form has an error.
Accessing Other Forms for a Vessel
To access any other forms associated with a vessel in the Voyage Reports list, click the red vessel name link.
Favorite Vessels
To add a vessel to your Favorites list, do one of the following:
On the map, click

next to the vessel name. T

o remove it,

click

.
On My Profile, under Favorite Vessels, move vessels between the Vessels and Favorite Vessels lists.
On the Dashboard, you can filter the list of incoming forms to show only those sent from vessels on your Favorites list.
To filter by your Favorite vessels, click

.
Alerts
To view form sharing errors in the Alerts tab, you must have the View Alerts General Permission enabled.
Message Banner
From the message banner, you can view Veslink updates about new features and enhancements, upcoming maintenance, and other news from Veson Nautical.

My Network
The My Network pane provides access to your Network of partners and includes invitation notifications that need your attention.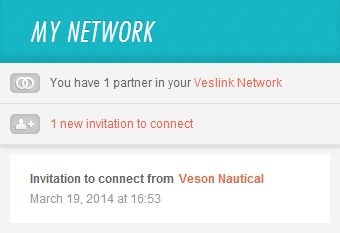 Company Profile
Companies can create a profile to share with other Veslink users, much like a form of social media. Your company profile appears in the Company Profile pane.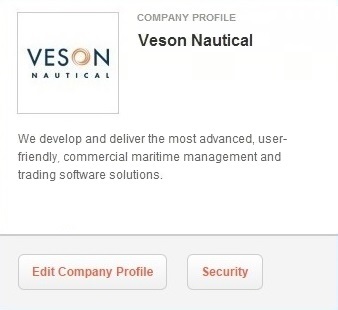 If you have the Edit Company Profile General Permission enabled, you can click

to edit your company's public profile.
If you have the Administer Company Account General Permission enabled, you can click

to manage users and groups.
From the Knowledge Base
From the Knowledge Base pane, you can access this help documentation and the What's New page.